When you invest up to £45,000 in a timepiece, you will want to ensure it meets your expectations and, even more important, that it remains safe and sound. 
So concerns about how to store Rolex when not wearing one are natural. This applies to both the mechanical well-being and security of the watch.
In this blog, we will cover these factors in detail and discuss the top 5 places to store your watch when not wearing it.   
Why Should You Securely Store Your Rolex When Not Wearing it?
Watches are designed to function perfectly when there's a motion that keeps the mainspring engaged. If you wish to keep your watch functioning when you are not wearing it, you should consider using a watch winder. 
With a high-value timepiece like a Rolex wristwatch, there is a need for protection against environmental damage and theft. Thankfully a typical Rolex is built to withstand severe environmental conditions such as vibrations, dust, and water. However, the Rolex website explains the need for and the process of servicing. As such, it matters how you use and where you store your timepiece.  
Luxury watch owners believe a Rolex or any similar product should be kept safe and secure when not being worn to secure it against damage and theft. 
Factors to Consider Before Deciding How to Store Your Rolex
Before you decide which of the 5 methods we have listed in this article to use, there are some things to think about:  
Environmental conditions:

Look for a place with a consistent temperature, low humidity, and away from direct sunlight to prevent damage from extreme temperature changes and moisture.

 
Protection: 

Choose a storage option that provides adequate protection from scratches, dust, and other physical damage.

 
Security: 

Consider a storage option that offers security features such as a lock or alarm system.

 
Convenience: 

Seek a storage option that allows you to easily access your watch when you want to wear it.

 
Size: 

Make sure the storage option you choose is suitable for the size of your Rolex and provides enough space for the watch to be stored comfortably.

 
Type of Rolex: 

Some Rolex models, such as diving watches, have specific requirements for storage. Consider the type of watch you have and its unique needs when choosing a storage option.
5 Ways to Store Your Rolex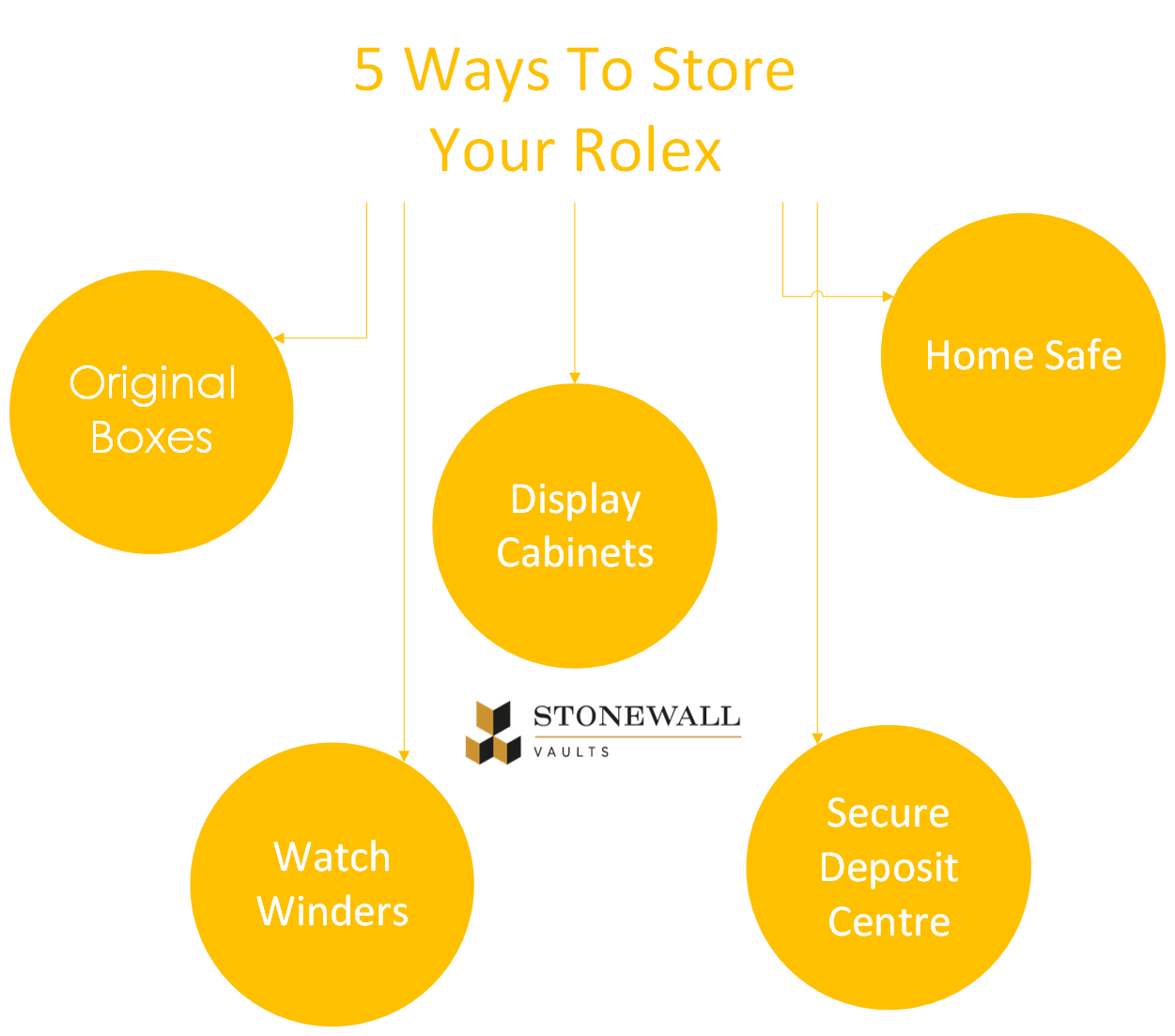 #1). Original Boxes: Storing a Rolex in its original box is the first choice for most owners. However, with the growing risk of theft around the country (see our Crime Stats Reports), a Rolex Box could well attract criminals. 
#2). Display Cabinets: Showcasing a prized timepiece in a display cabinet with a lock function is an option. You should consider increasing the security around your home if high-value, removable items are on display within. 
#3). Home Safe: Wrapping the Rolex in a soft cloth and locking it in a Safe for long-term storage.  There are several types of Safes for the home(see various types of Safes). 
#4). Watch Winders: A Watch Winder keeps your watch wound and ready to wear without having to manually reset the time. 
#5). Secure Deposit Centre: With a safety deposit box,  a Rolex watch can be stored in a winder and securely placed in a Safe Deposit Box at a guarded centre.  Most safety deposit centres provide insurance on customers' boxes at no extra cost. 
Stonewall Vault is always manned with licenced guards and is open every day including weekends and bank holidays, for the convenience of customers.  
If you're looking to store your Rolex or have other valuables to store together, please contact us to discuss your needs.